About Nia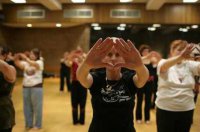 The Nia Technique is based on The Body's Way and incorporates 9 movement energies, 13 primary principles, and 52 basic moves.
Students learn the technique of Nia in classes, through books and videotapes, and in workshops or student/teacher intensive training. Improvement in technique comes from practice that promotes growth out of love and ease rather than pain and effort.
Nia gives people of all ages and fitness levels tools to explore their own bodies and the ways they move. Students are given the space and time to explore, perceive, and refine their movements in order to experience greater ease and pleasure. Through the practice of Nia's time-tested technique, the body, mind, emotions, and spirit transform - changing and growing to reach the personal potential set by each individual. People are encouraged to develop in their own way and in their own time within a community group exercise environment.
Nia is a safe holistic fitness programme giving you a whole body workout. It is non-impact, suitable for all fitness levels, all shapes and sizes, and all ages.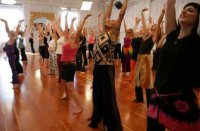 Nia helps you feel fitter and enjoy the freedom of moving your body. Nia is a fusion of the dance arts, martial arts, and healing arts. It enables you to achieve physical, mental, and emotional health.
Some of the benefits:
Improved cardiovascular fitness
Increased energy
Stress reduction
Improved stamina
Greater flexibility
Postural alignment
Weight management
Improved muscle tone
Improved joint mobility